Along with their industry leading fiberglass boats Triton also makes the best aluminum boats money can buy. At Tri-State Marine we are happy to offer the full line of Triton aluminum boats. Whether your looking for a full blown tournament ready bass rig or just a 14 foot Jonboat so you can get out on the local pond, Tri-State Marine and Triton have the aluminum boat your looking for. The following are some highlights of the boats we carry. (Click on images below for larger version)
Magnum Series - Are you looking for a tournament ready bass boat but want the advantages of an aluminum boat? Then the Magnum Series is just what your looking for. The Magnum Series features a pad bottom high performance hull, huge casting decks and plenty of storage for your tackle all with the durability a rugged all welded aluminum hull has to offer. With models from 17' to 19'-4" able to handle outboards up to 200 horsepower Triton offers complete tournament performance with the durability of aluminum.

Crappie Series - Designed with input from top Crappie guides these rugged aluminum boats offer layout and performance that will far exceed the needs of even the most serious crappie fishermen. With four models from 14' to 17', console, stick or tiller steering, you can easily find a model to suit your needs.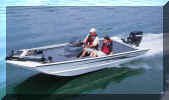 Sport Series - The baby brother to the Magnum series, the sport series offers a great option for those who don't need all the bells and whistles of a full blown tournament rig. Fewer features does not mean less quality however. These sport series hulls are built with the same rugged quality you have come to expect from a boat with the Triton name on the side.
Hunting Boats - Are you the type that can't wait for the cold weather? The type that has an entire corner of the garage dedicated to plastic birds? The type that lives to get out of bed 4 hours before dawn hoping beyond hope that it will be a overcast frigid day on the water? Do you have a black or yellow dog named DU or Rem or something along those lines that can't wait for you to get ready to go? If you fit the above description then we have a boat that will have you grinnin bigger than a mule eat'n briars. Triton may not have invented the Duck boat but they very well may have perfected it. With two Mossy Oak camo patterns available one of the five models of hunting boats will fit your needs. All feature Triton's ingenious Lock Track accessory system for accessories like a dog ladder or a blind system. If your into the ducks, you owe it to yourself to check out this line of Triton boats!
Bay Boats - The Triton Bay series boats are the perfect rig for folks looking for the rugged construction of a quality aluminum boat designed for the harsh conditions of inshore saltwater fishing. Hard core bay fishing demands a heavy duty boat and with hulls up to 1/8 inch thick these center console boats can take a pounding and offer a smooth dry ride. They deliver exactly what you would expect from a boat with the Triton name on it.