WHO WE ARE
Vegas Valley Bass Masters is Las Vegas' only bass club that is affiliated with the Bass Anglers Sportsman's Society's National Federation.
WHAT WE DO
The purpose of our club is to:
| | |
| --- | --- |
| | Help the membership become more skilled in bass fishing |
| | |
| --- | --- |
| | Attempt to increase the enjoyment of bass fishing. |
| | |
| --- | --- |
| | Attempt to promote fellowship among our members. |
| | |
| --- | --- |
| | Attempt to make bass fishing a more productive and enjoyable sport through low costs, conservation practices and sportsmanlike conduct. |
| | Allow our members access to the advantages of fishing a Federation Affiliated club. |
Our club meets once per month usually on the second Wednesday of the month. At this meeting we discuss the any club business and draw partners for the upcoming tournaments, which are held on various bodies of water in the Las Vegas area. Our tournaments are generally held on the weekend following the meeting usually on Sunday.
We fish nine regular tournaments, one per month October through June with each angler accruing points for the year. The leader in points after these ten tournaments is awarded the title of Angler of the Year and is awarded a cash prize. At the end of the season, in July, we fish a "Classic" tournament at which the top ten anglers from the previous nine tournaments fish for prize money that is set aside from the fees to fish the monthly tournaments. For the non top ten anglers there is also a cash prize awarded to the angler finishing highest in the classic.
Benefits of Vegas Valley Bass Masters Membership
Since we are a club affiliated with the Arizona Chapter of the Bass Anglers Sportsman's Society Federation, among the benefits of membership in our club is the Federation Membership. This allows members to receive B.A.S.S. times, a monthly newspaper that contains articles relating to tactics and techniques, nationwide coverage of conservation issues and coverage of the B.A.S.S. tour. Federation membership also provides anglers a road to the B.A.S.S. Bassmaster's Classic.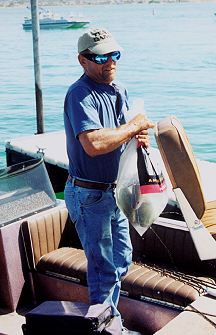 In addition to the Federation membership we are also members of B.A.S.S. which entitles you to receive Bassmaster Magazine, one of the finest publications available relating to the sport of bass fishing, as well as discounts on rental cars, boat owners insurance and other benefits.
Membership Information
In order to join our club, just get in touch with a current member or club officer. You may attend meetings as a guest to get a feel for things before deciding to pledge or you can pledge at your first meeting. There is a $20.00 pledge fee due on the night you decide to pledge. Each pledge must attend 3 meetings and fish 3 tournaments with the club before being voted on by the membership. Each tournament has a $10.00 fee $8.00 of which goes to the top ten classic fund and $2.00 to the Angler of the Year fund. Members pay $75.00 per year (new members pay the $20.00 pledge fee and $55.00 more after being voted into the club) That fee includes the Federation membership. Club members must be members of B.A.S.S.
Club Officers
President/Treasurer:
Mick Ratcliff
702-450-3677
Vice President/Tournament Director:
Mike Roser
702-457-5454
Federation Tournament Entry Fee and Payout Information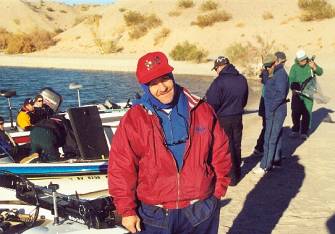 Entry fees for all Arizona Federation Tournaments are $40.00 per angler. There is a $10.00 late fee if you pay entry at the tournament.
Options are as follows;
$10 big fish.
$10 boater and non boater option.
$20.00 first option.
$50.00 Special option.
Payouts for regular qualifiers are as follows;
70% on main entry fee
80% on boater, non boater and first option.
100% on big fish
100% on Special option.
Payouts for Top Ten tournaments are paid to clubs. $900 to 1st place club $700 to 2nd place club and $500 for 3rd place club. All options monies are paid to individuals in the same percentages as the regular qualifier tournaments.
The Federation, if you make the state team, pays entry fees to the divisional tournament. All monies earned by the state team at the divisional tournament go back to the Arizona Federation's Divisional Bank account. This account is used to pay all reasonable expenses incurred by members of the state team during the divisional tournament. Big fish money won by an individual at the divisional tournament is kept by that individual.
ARIZONA FEDERATION SCHEDULE FOR 2002
FEBURARY 2ND - 3RD, 2002 ……ROOSEVELT LAKE
MARCH 16TH - 17TH, 2002 ……TOP TEN ALAMO
APRIL 13TH - 14TH, 2002 ……MARTINEZ LAKE
July 13th, 2002 ……LAKE PLEASANT NIGHT TOURNAMANET ( OPEN )
September 28-29 Lake Pleasant
OCTOBER 19TH – 20TH, 2002 ……HAVASU Canceled due to permit issues.
NOVEMBER 23TH – 24TH, 2002 …..APACHE