Thanks to our sponsor


We at Tri-State Marine are proud to be the North Florida pan handle's exclusive dealer of Triton Bass Boats.
Triton, although a relative newcomer to the bass boat industry, has quickly become the fastest selling bass boat nationwide. We believe this is due to the overall quality of the product. Designed by famed boat designer Earl Bentz, these boats set the standard for overall performance in a bass boat. The Triton hulls offer great speed, rough water ride and stability, while the layout up top gives ample storage for tackle and safety gear. Whether your a weekend warrior or a full time professional these boats are just great to fish out of.
Click on images for larger version.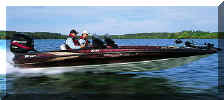 TR Series - Professional tournament anglers like Roland Martin, Shaw Grigsby, Randy Howell and 2004 BASS Angler of the Year Gerald Swindle demand high performance from their boats. They look for things like a smooth rough water ride, top end speed, a nice stable platform to fish from, tackle storage, high capacity livewells to keep their catch alive, anything that helps them get them and their gear safely to their fishing area as fast and comfortably as possible. Triton delivers exactly what serious anglers are looking for. The limited Lifetime transferable warranty is just an indicator of the quality that goes into the all composite hulls. Triton uses a "Zero Flex" one piece composite and fiberglass stringer system that is molded to precisely mate with the hull laminate for superior rigidity and strength.
They then add flotation that exceeds the "level and upright" flotation standards set by the U.S. Coast Guard. Quality and safety are built in to every Triton boat from the beginning of the process. Add features like the Pro-Active Lure Storage (P.A.L.S.) which holds Plano 3700 series tackle storage boxes in an organized fashion, huge rod lockers and powerful 750 gallon per hour fill and re-circulation pumps in the livewell system and these boats are ready to take anyone, full time pro or weekend warrior, safely and efficiently to where the big fish hang out. With boats ranging in size from 16'7" to 22' Triton and Tri-State Marine have a bass boat for everyone.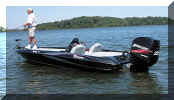 X Series - New for 2004 is the Triton X series. Recently named Field and Stream Magazine's "Best of the Best" these boats are available in 19', 20' and 21' models and feature a higher profile, a wider, more buoyant bow, wider seats and a deeper cockpit making them ideal for big water conditions. The wider bow makes for a huge front casting deck and lots of extra storage space. The X series also adds several new features such as a recessed well for your trolling motor footswitch, Triton's award winning boarding ladder, two locations for the front seat, a new "no water loss" redundant fill livewell system, new style console and much more. If your looking for the ultimate in a tournament bass rig you owe it to yourself to check out Triton's X series.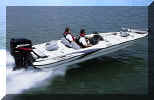 TX Series - If your one of the many folks that love both freshwater fishing and inshore saltwater fishing, this is the boat for you. Triton started with the hugely popular TR series hull and made them saltwater friendly by eliminating the carpet and adding non-skid fiberglass lids. Then they added stainless pull up cleats, salt water wiring, oversized livewells with knock-out dividers and live baitwells. These boats are the ideal rig for crossover anglers that want to fish both fresh water and salt water out of the same boat. They are available in 18 1/2, 19 1/2, 20 and 21 foot models with single or dual consoles.